1.1 Anti-Aging Facial Mask
Major

🔑: the secret to youthful, even-toned skin is hydration + moisture retention 
Yes, genetics do play a big role, and prescriptions like topical retinoids may help skin look younger. But, the staples of any anti-aging routine need to include products with hydrating properties and antioxidants that help the skin repair itself as well – prevention and consistency in your routine is more beneficial than any quick fix. 
Our Skinfood 1.1 facial mask is designed with Vitamin-C rich Pomegranate Extract and antioxidant-rich Red Reishi mushroom to hydrate and brighten skin, making it appear more youthful and supple over consistent use. 
designed by estheticians

tested on real people

alcohol and artificial fragrance-free

includes our recs on lifestyle, diet, and regimen considerations for uneven + mature skin.

unsure if this is for you?

take our skin quiz.
(4oz)
$28
Step 1
Fill cup provided with 1/3 product and 1/3 water (2 tsp. each), using the measuring spoon provided. Close the cup and shake to mix, or stir with a spoon until product becomes a creamy paste.
Step 2
For an at-home facial, apply paste over your entire face, and rinse after 8-10 minutes. Rinse thoroughly and gently, and follow up with a lightweight moisturizer and SPF.
Introducing Our At-Home Facial Mask Series
Key Ingredients

Kaolin Clay
gentle exfoliator + skin toner

Pomegranate
antioxidant + vitamin C rich

Red Reishi
powerful moisturizer

Rose Petals
skin brightener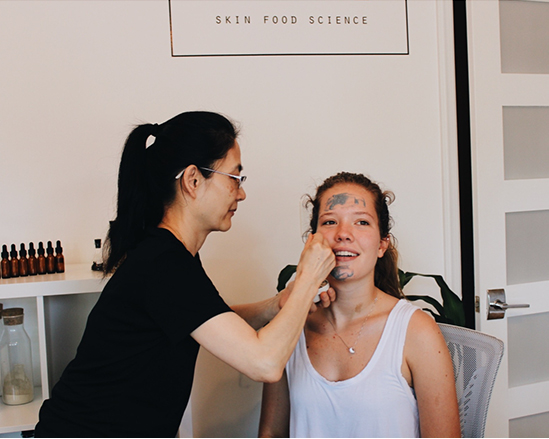 Want some guidance IRL? try our out our products with our facialists in our showroom and bring out your best skin faster.
Our licensed estheticians work with skin literally every single day – bring the products you currently use in and we can audit your routine!
Book a Facial