"I experienced a wake-up call moment that made me stop and analyze how I was adding value to the world and helping others."
Kelsey is a local entrepreneur who owns Haus of Pretty, a beauty salon in Westport CT that takes a clean and personalized approach. We caught up with her to discuss the parallels between hair and skin and her motivation to move from the corporate world to being her own boss.
Check them out @hausofpretty and www.hausofpretty.com
Hey Kelsey! Thanks for doing this! So what inspired you to start Haus of Pretty? 
I experienced a wake-up call moment that made me stop and analyze how I was adding value to the world and helping others. I have been licensed in Cosmetology since 2011 but had been working in the corporate finance world at the time. I have always loved creating art through hair and makeup design and making clients feel good about themselves. I realized the best way to help others was to get back to my true passion. I have worked for other wonderful salons and corporate companies in the past but felt the need to establish a truly unique concept to add value to others my own unique way. My vision was to create a company focused on custom and thoughtful beauty. My beauty company uses high end products and techniques that you would expect from a global salon with the feel of a local, community salon. We provide sustainable products and exercise eco friendly options where we can to minimize our impact on the environment as well.
I'm also very involved with JDRF and other Diabetes charities because I have Type 1. One of the events I look forward to every year is donating my time styling makeup for the annual JDRF Catwalk event held in Stamford. This year I am actually a guest speaker which is truly such an honor to be a part of. I love what I do and hope that my business will impact others in a positive way and make a difference.
For your business, what made you decided you wanted to use natural products?
I grew up eating organic and whole foods. My mom was always conscious of portioning food groups and using simple products around the house so it was a natural decision for me to translate that into my salon and beauty business for clients. I believe that quality matters and will always offer the best, most gentle options to my clients whenever possible. We carry Davines which is a sustainable, eco friendly brand originated in Italy. A friend who owns a salon in Milford uses the line and suggested it- It's one of the lines where I actually noticed the health of my hair improved after using it. It was a no-brainer to offer what I use and support to my own clients.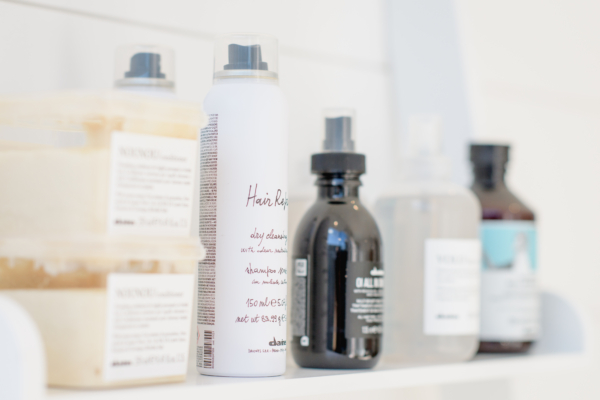 What makes Haus of Pretty unique? 
It's our approach to custom beauty. Everything we do is unique and is designed to promote our client's current and future hair health as well as provide them with a focused customer experience. Our consultations are very thorough- we take the time to sit down and speak with clients before each appointment to discuss our custom hair plans and what the best options, techniques and products would be for each individual. That's why our service menu is a little
different than what you might expect from normal hair salons. My employees and I will always pick what works for the client's lifestyle, goals and long term hair health.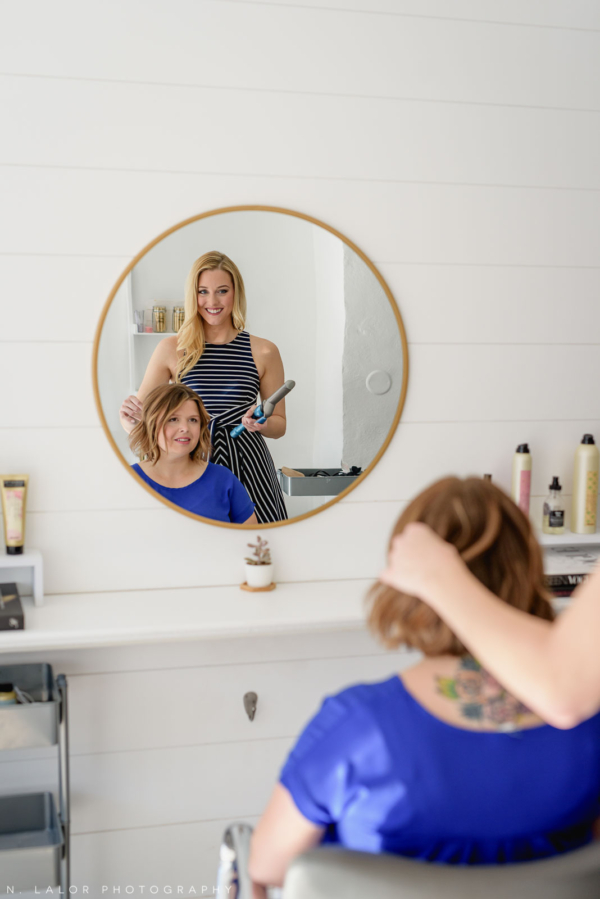 Other than hair you also do makeup?
Yes- we do makeup applications, lessons and are available to travel to clients to provide artistry on site. We also do the best brow shaping and brow and lash tinting with a vegetarian based formula. Haus of Pretty is a one-stop custom beauty salon for busy clients. My goal was to create a company that truly compliments our clients lifestyles and that includes accommodating more than one type of beauty artistry.
Now let's talk skin! What's your personal skincare routine that you follow?
I stick to simple- my skin is on the sensitive side. I've been going to Fairfield Dermatology since high school so I always use what they recommend. For me, they recommended CeraVe face wash and Elta MD tinted sunscreen. I get facials about quarterly, use a Sanitas eye cream and always take off my makeup before bed. I also have a small obsession with coconut gel face masks!
What are your skincare tips that you live by? 
Never sleep with makeup on, hydrate and always use tons of sunscreen!