(Pieology Stamford Franchise Owners picture above: Sahil Patel, left, and Regal Patel)
Sooooo this might seem counterintuitive since we're always saying that dairy can wreak havoc on skin. However, the pizza at the new Pieology Pizzeria in downtown Stamford (Near Cheesecake Factory inside the mall) was so good we had to do a feature – plus, they have excellent gluten-free and vegan options which taste fantastic as well.
The concept features an assembly line counter (sound familiar?) a la Chipotle, where you can pick your sauce and unlimited toppings. Your pizza is then cooked in their open oven, done in less than 5 minutes.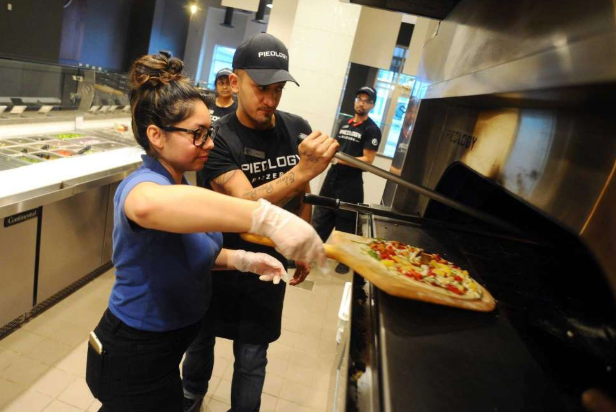 Pieology originated in the West Coast and was founded by Carl Chang, brother of famed Tennis star Michael Chang. The concept expanded quickly, and now boasts celebrity investors, including NBA Star Kevin Durant of the Golden State Warriors.
The Stamford franchise location was opened by Nefaire member, Regal Patel, along with Sahil Patel of New Haven and Nishant Patel of Danbury. Although the three share a last name, they are not related.
Sahil and Nishant are alums of UConn, and Regal graduated from NYU – the trio met through mutual connections and a love of pizza, and they instantly knew they wanted to bring the concept West after trying it out on a trip to Vegas. The fresh ingredients, artisan taste, and friendly service was met with open arms by the Stamford community last fall, bringing a healthier option pizza to the traditional fast food options available here in Fairfield County.
Despite being in the restaurant industry, Regal believes the fresh approach, customer-centric service, and excellent product draws many parallels to what we're doing at Nefaire. With an extensive array of Gluten-Free, Dairy-Free, and Vegan options, its an indulgence that we believe can be had without worrying about what it might do to your skin.
If dairy isn't too big of a concern for your skin, we say go for it! (And if it is, opt for the Vegan Pizza which is delicious) Just look at those pies: