Eminence Organics
Eminence Strawberry Rhubarb Dermafoliant
$48
(4.2oz)
Uneven skin tone + dark marks? Don't just wait for them to fade. Accelerate the process.  
This exfoliating face scrub is a blend of lactic acid, strawberry extract, and salicylic acid that will gently buff away any impurities and dead skin cells, revealing fresher skin underneath. Works well for dark marks caused by Post-Inflammatory Hyperpigmentation (PIH), or the marks that sometimes appear after blemishes heal. Remember to follow up with a sunscreen with an SPF of at least 30 to prevent discoloration from getting worse.
About Eminence Organics: Eminence Organics is a natural skin care line from Hungary that uses 100% organically grown fresh herbs, fruits, and vegetables in its skincare products. With products known for their rich colors and fresh pulps, they practice eco-friendly manufacturing with solar-powered farms, and also avoid the use of harmful chemicals such as SLS, Parabens, GMOs, or animal by-products.
How To
How To Use
Mix a pea size amount with water, and gently massage in a circular motion into the face, taking extra care on the areas where you have discoloration. Rinse thoroughly with water after application, and be careful not to get any product in your eyes.
THERAPIST TIPS
What's often forgotten is that an exfoliant like the Rhubarb Dermafoliant can be used on your neck as well. Additionally, for extra discoloration fighting power, follow up with a brightening serum containing Vitamin C.
THE INGREDIENTS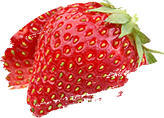 Strawberry Rhubarb
Skin Brightening // Vitamin C // Free Radical Fighting